TROPICAL STORM CENTER
October 5, 2015   •   By Meteorologist Jeff Huffman   •    Updated: 2 weeks ago
It's a swirl on satellite that looks like a hurricane. But it's not. The damage it has caused in the Carolinas though, especially as it relates to inland and coastal flooding, resembles what is often left behind from a hurricane. Thankfully it won't be nearly as dramatic, but the back edge ofRead more
Learn what to do before, during, and after a storm. Get Ready!
---
@FloridaStorms
Tweets by @FloridaStorms
[direct][/direct]
FROM THE NATIONAL HURRICANE CENTER
ACTIVE STORMS ATLANTIC OUTLOOK HURRICANE HUNTERS FORECAST DISCUSSION

---
---
Published: Thursday October 8th, 2015 by nhcwebmaster@noaa.gov (NHC Webmaster)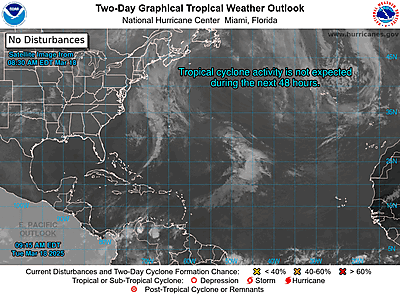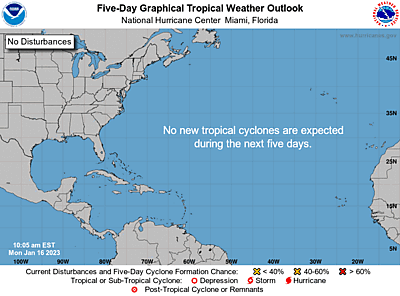 ZCZC MIATWOAT ALL
TTAA00 KNHC DDHHMM
TROPICAL WEATHER OUTLOOK
NWS NATIONAL HURRICANE CENTER MIAMI FL
800 AM EDT THU OCT 8 2015
For the North Atlantic...Caribbean Sea and the Gulf of Mexico:
Tropical cyclone formation is not expected during the next 5 days.
$$
Forecaster Blake
NNNN
---
TOP
Published: Thursday October 8th, 2015 by nhcwebmaster@noaa.gov (nhcwebmaster)

000
AXNT20 KNHC 081114
TWDAT

TROPICAL WEATHER DISCUSSION
NWS NATIONAL HURRICANE CENTER MIAMI FL
805 AM EDT THU OCT 08 2015

TROPICAL WEATHER DISCUSSION FOR NORTH AMERICA...CENTRAL
AMERICA...GULF OF MEXICO...CARIBBEAN SEA...NORTHERN SECTIONS OF
SOUTH AMERICA...AND ATLANTIC OCEAN TO THE AFRICAN COAST FROM THE
EQUATOR TO 32N. THE FOLLOWING INFORMATION IS BASED ON SATELLITE
IMAGERY...WEATHER OBSERVATIONS...RADAR...AND METEOROLOGICAL
ANALYSIS.

BASED ON 0600 UTC SURFACE ANALYSIS AND SATELLITE IMAGERY THROUGH
1045 UTC.

...SPECIAL FEATURES...

JOAQUIN HAS BECOME A POST-TROPICAL CYCLONE. THE LAST ADVISORY
THAT WAS WRITTEN ABOUT JOAQUIN WAS TRANSMITTED AT 08/0300 UTC.
THE CENTER THAT NOW IS NEAR 43N35W IS ASSOCIATED WITH A FRONTAL
BOUNDARY. THE COLD FRONT THAT IS RELATED TO THE POST-TROPICAL
CYCLONE REACHES 32N41W. CONVECTIVE PRECIPITATION...BROKEN TO
OVERCAST MULTILAYERED CLOUDS AND POSSIBLE RAINSHOWERS ARE FROM
41N TO 51N BETWEEN 15W AND 32W.

...TROPICAL WAVES...

AN ATLANTIC OCEAN TROPICAL WAVE IS ALONG 28W/29W FROM 17N
SOUTHWARD...MOVING WESTWARD 10 TO 15 KNOTS. A TILTED 700 MB
TROUGH IS EVIDENT IN MODEL STREAMLINES WITH A SURGE OF DEEP
MOISTURE PRECEDING THE WAVE. CONVECTIVE PRECIPITATION...WIDELY
SCATTERED MODERATE TO ISOLATED STRONG WITHIN 120 NM ON EITHER
SIDE OF 15N22W 10N28W 06N34W 03N42W. ISOLATED MODERATE ELSEWHERE
FROM 10N TO 13N BETWEEN 30W AND 43W.

A LOW AMPLITUDE ATLANTIC OCEAN TROPICAL WAVE IS ALONG 53W/54W
FROM 11N SOUTHWARD...MOVING WESTWARD 15 TO 20 KNOTS DURING THE
LAST 24 HOURS. THE WAVE COINCIDES WITH A SUBTLE 700 MB TROUGH.
CONVECTIVE PRECIPITATION...SCATTERED MODERATE TO ISOLATED STRONG
FROM 09N TO 11N BETWEEN 53W AND 57W.

A CARIBBEAN SEA TROPICAL WAVE IS ALONG 21N61W 17N62W 14N63W
10N63W. THE WAVE HAS BEEN MOVING WESTWARD 15 KNOTS DURING THE
LAST 24 HOURS. THE WAVE COINCIDES WITH A FAIRLY SHARP 700 MB
TROUGH BETWEEN 59W AND 65W AND REMAINS EMBEDDED WITHIN AN AREA
OF MODERATE TO HIGH MOISTURE AND DIFFLUENT FLOW ALOFT.
CONVECTIVE PRECIPITATION...NUMEROUS STRONG FROM 17N TO 23N
BETWEEN 57W AND 60W. SCATTERED STRONG FROM 11N TO 14N BETWEEN
58W AND 60W. WIDELY SCATTERED MODERATE TO ISOLATED STRONG
ELSEWHERE FROM 10N TO 20N BETWEEN 60W AND 63W.

...ITCZ/MONSOON TROUGH...

THE MONSOON TROUGH PASSES COASTAL SECTIONS OF GUINEA-BISSAU NEAR
11N15W TO 10N25W. THE ITCZ STARTS NEAR 09N31W TO 08N40W TO
06N48W. CONVECTIVE PRECIPITATION...WIDELY SCATTERED MODERATE TO
ISOLATED STRONG WITHIN 120 NM ON EITHER SIDE OF 15N22W 10N28W
06N34W 03N42W. ISOLATED MODERATE ELSEWHERE FROM 10N TO 13N
BETWEEN 30W AND 43W. IT IS POSSIBLE THAT SOME OF THIS
PRECIPITATION MAY BE RELATED TO THE 28W/29W TROPICAL WAVE ALSO.
ISOLATED MODERATE ELSEWHERE FROM 04N TO 10N BETWEEN 35W AND 43W.

...DISCUSSION...

THE GULF OF MEXICO...

AN UPPER LEVEL ANTICYCLONIC CIRCULATION CENTER IS NEAR 22N92W.
ANTICYCLONIC WIND FLOW COVERS THE GULF OF MEXICO. COMPARATIVELY
DRIER AIR IN SUBSIDENCE IS APPARENT IN WATER VAPOR IMAGERY
WITHIN 75 NM OF THE COASTS BETWEEN LOUISIANA AND TEXAS.

THE SURFACE PRESSURE GRADIENT IS COMPARATIVELY WEAK. THE ONLY
SURFACE FEATURE IS THE TROUGH THAT CONTINUES FROM THE ATLANTIC
OCEAN NEAR 27N78W...CUTTING ACROSS SOUTH FLORIDA NEAR 26N81W...
INTO THE GULF OF MEXICO NEAR 25N86W AND 22N92W.

THE CARIBBEAN SEA...

PLEASE REFER TO THE SECTION THAT IS ABOUT TROPICAL WAVES...FOR
MORE DETAILS ABOUT THE CARIBBEAN SEA TROPICAL WAVE THAT IS ALONG
21N61W 17N62W 14N63W 10N63W

A MIDDLE LEVEL TO UPPER LEVEL TROUGH PASSES THROUGH 32N74W TO
26N73W 22N72W...CUTTING RIGHT THROUGH HAITI...TO 16N74W...INTO
NORTHERN COLOMBIA. CONVECTIVE PRECIPITATION...WIDELY SCATTERED
MODERATE TO ISOLATED STRONG FROM 16N SOUTHWARD BETWEEN 76W AND
85W IN EASTERN SECTIONS OF NICARAGUA.

UPPER LEVEL MOISTURE COVERS THE AREA FROM 15N SOUTHWARD FROM 68W
WESTWARD... IN AN AREA OF LARGELY UPPER LEVEL WESTERLY WIND
FLOW. THE MONSOON TROUGH IS ALONG 09N/10N BETWEEN 75W IN
COLOMBIA TO 83W/84W AT THE COAST OF COSTA RICA...AND BEYOND INTO
THE EASTERN PACIFIC OCEAN.

THE 24-HOUR RAINFALL TOTAL IN INCHES FOR THE PERIOD ENDING AT
08/0000 UTC...ACCORDING TO THE PAN AMERICAN TEMPERATURE AND
PRECIPITATION TABLES...MIATPTPAN/SXCA01 KNHC...ARE 0.24 IN
GUADELOUPE.

...HISPANIOLA...

A CARIBBEAN SEA TROPICAL WAVE IS ALONG 21N61W 17N62W 14N63W
10N63W. PLEASE REFER TO THE SECTION THAT IS ABOUT TROPICAL WAVES
FOR MORE DETAILS. AN UPPER LEVEL NORTH-TO-SOUTH ORIENTED TROUGH
CUTS THROUGH HAITI. CONVECTIVE PRECIPITATION...ISOLATED MODERATE
IN THE CARIBBEAN WATERS FROM 15N TO 17N BETWEEN 68W AND 80W.

CURRENT CONDITIONS...IN THE DOMINICAN REPUBLIC...FEW LOW LEVEL
CLOUDS ARE IN SANTO DOMINGO AND LA ROMANA. SCATTERED LOW LEVEL
CLOUDS ARE IN PUNTA CANA. SCATTERED LOW LEVEL CLOUDS ARE IN
SANTIAGO. FEW LOW LEVEL CLOUDS ARE IN PUERTO PLATA.

THE GFS MODEL FORECAST FOR 250 MB SHOWS THAT A NORTH-TO-SOUTH
ORIENTED TROUGH WILL CUT THROUGH HAITI FOR THE FIRST 12 HOURS OF
THE 48-HOUR FORECAST TIME. A CYCLONIC CIRCULATION CENTER WILL
BECOME CUT OFF...AND IT WILL STAY IN THE SOUTHERN COASTAL WATERS
OF HISPANIOLA FOR THE REST OF THE 2-DAY FORECAST PERIOD. THE
GFS MODEL FORECAST FOR 500 MB SHOWS THAT A NORTHEAST-TO-
SOUTHWEST ORIENTED RIDGE WILL COVER THE AREA FROM THE ATLANTIC
OCEAN TO HISPANIOLA. FOR THE FIRST 24 HOURS. NORTHEASTERLY WIND
FLOW WILL COVER HISPANIOLA FOR THE SECOND 24 HOURS. THE GFS
MODEL FOR 700 MB SHOWS THAT WESTERLY-TO-SOUTHWESTERLY WIND
FLOW...WITH A NORTHEAST-TO-SOUTHWEST ORIENTED BAHAMAS-TO-
SOUTHEASTERN CUBA RIDGE...WILL MOVE ACROSS HISPANIOLA FOR THE
FIRST 24 HOURS OF THE FORECAST PERIOD. NORTHEASTERLY WIND FLOW
WILL MOVE ACROSS HISPANIOLA DURING DAY TWO OF THE FORECAST
PERIOD...BEING ON THE WESTERN SIDE OF A NORTHEAST-TO-SOUTHWEST
ORIENTED ATLANTIC OCEAN-TO-SOUTHEASTERN DOMINICAN REPUBLIC
INVERTED TROUGH.

THE ATLANTIC OCEAN...

PLEASE REFER TO THE SPECIAL FEATURES SECTION FOR MORE DETAILS
ABOUT POST-TROPICAL CYCLONE JOAQUIN.

A MIDDLE LEVEL TO UPPER LEVEL TROUGH PASSES THROUGH 32N74W TO
26N73W 22N72W...CUTTING RIGHT THROUGH HAITI...TO 16N74W...INTO
NORTHERN COLOMBIA. A COLD FRONT PASSES THROUGH 32N66W TO 31N70W.
A SURFACE TROUGH CONTINUES FROM 31N70W TO 27N78W...CUTTING
ACROSS SOUTH FLORIDA NEAR 26N81W...INTO THE GULF OF MEXICO NEAR
25N86W AND 22N92W. CONVECTIVE PRECIPITATION...WIDELY SCATTERED
MODERATE TO ISOLATED STRONG WITHIN 270 NM TO THE NORTH AND
NORTHWEST OF THE LINE THAT PASSES THROUGH 32N58W 28N63W 26N70W
25N80W.

A MIDDLE LEVEL TO UPPER LEVEL TROUGH EXTENDS FROM 29N57W TO
26N54W 22N53W AND 18N52W. CONVECTIVE PRECIPITATION...DEBRIS
CLOUDS AND POSSIBLE RAINSHOWERS ARE ELSEWHERE FROM 19N TO 28N
BETWEEN 46W AND 60W.

BROAD MIDDLE LEVEL TO UPPER LEVEL CYCLONIC WIND FLOW COVERS
THE AREA FROM 10N TO 24N BETWEEN 30W AND 45W.

AN ATLANTIC OCEAN RIDGE EXTENDS FROM A 1021 MB HIGH PRESSURE
CENTER THAT IS NEAR 38N16W...THROUGH 32N21W TO 26N29W...THROUGH
A 1020 MB HIGH PRESSURE CENTER THAT IS NEAR 26N49W...TO
26N69W...ACROSS THE CENTRAL BAHAMAS AND CENTRAL CUBA...INTO THE
NORTHWESTERN CORNER OF THE CARIBBEAN SEA NEAR 18N86W.

FOR ADDITIONAL INFORMATION PLEASE VISIT
HTTP://WWW.HURRICANES.GOV/MARINE

$$
MT

---
TOP
Published: Thursday October 8th, 2015 by nhcwebmaster@noaa.gov (nhcwebmaster)
 
 000
 NOUS42 KNHC 081311
 REPRPD
 WEATHER RECONNAISSANCE FLIGHTS
 CARCAH, NATIONAL HURRICANE CENTER, MIAMI, FL.
 0915 AM EDT THU 08 OCTOBER 2015
 SUBJECT: TROPICAL CYCLONE PLAN OF THE DAY (TCPOD)
          VALID 09/1100Z TO 10/1100Z OCTOBER 2015
          TCPOD NUMBER.....15-135
 
 I.  ATLANTIC REQUIREMENTS
     1. NEGATIVE RECONNAISSANCE REQUIREMENTS.
     2. OUTLOOK FOR SUCCEEDING DAY.....NEGATIVE. 
       
 II. PACIFIC REQUIREMENTS
     1. NEGATIVE RECONNAISSANCE REQUIREMENTS.
     2. SUCCEEDING DAY OUTLOOK.....NEGATIVE.
     
 $$
 JWP
 
 
 
---