Millions of Floridians experienced the coldest air in several years Wednesday morning, and in some places, the coldest in nearly a decade.
Arctic air engulfed the state Monday and Tuesday, which sent temperatures well below normal for the first time in many weeks. Low temperatures ranged from the upper 20s in the Panhandle to near 40 in Miami.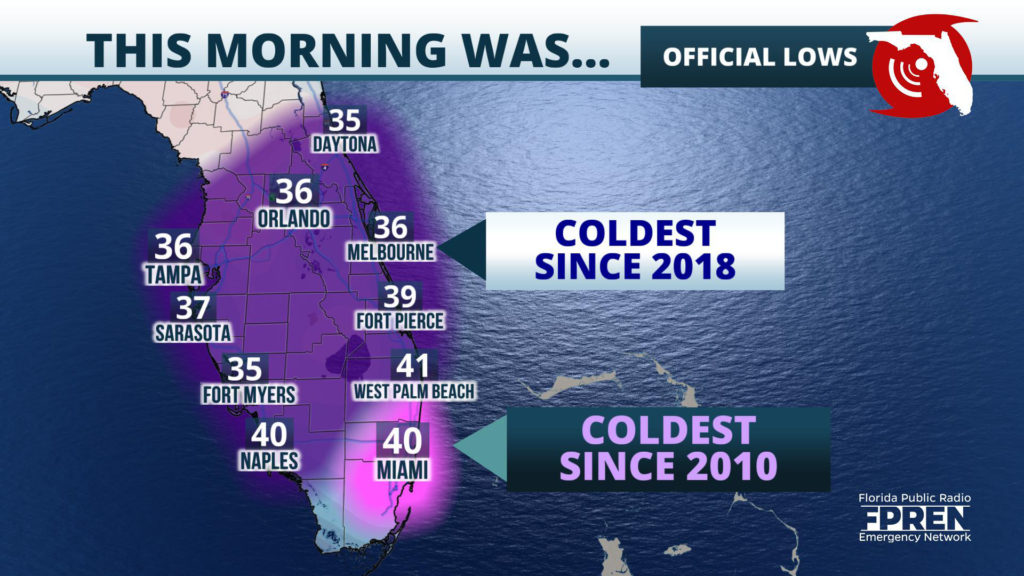 The list below includes official low temperatures from Wednesday morning, compared to the last date it was that temperature or lower.
Miami: 40, last time 12/28/2010
Fort Myers: 35, last time 1/18/2018
Sarasota: 37, last time 1/18/2018
Tampa: 36, last time 1/18/2018
Melbourne: 36, last time 1/18/2018
Orlando: 36, last time 1/19/2018
Daytona: 35, last time 1/19/2018
Naples: 41, last time 3/15/2018
West Palm Beach: 41, last time 11/29/2018
Brisk northerly winds added insult by making these already cold numbers feel even colder. Wind chills fell all the way to the freezing mark near Miami, and were as low as the lower 20s across the northern third of the state.
Warmer air is forecast to replace the Arctic air mass and by the end of the week high temperatures should return to normal.