Tuesday morning update: The Flood Watch has been extended through Tuesday evening for Southeast Florida as more rounds of showers and thunderstorms are expected. The Weather Prediction Center has placed the region in a marginal risk for excessive rainfall today (risk level 1 out of 4) which could trigger isolated flash flooding in localized areas.

Overall shower coverage will be less over the afternoon and evening, with the majority of the activity primarily secluded along the East Coast. However, it won't take much to cause additional flooding concerns, especially across South Florida.

Widespread showers are continuing to move off the East Coast of the Sunshine State into the Atlantic Tuesday. Showers, with possible embedded thunderstorms, will develop throughout the East Coast of Florida on Tuesday and are expected to clear out of the state over the evening and overnight.

South-Central Florida estimated between 8 to 12 inches of rain Monday, according to the National Weather Service in Melbourne. Vero Beach set a record Monday, receiving 2.85 inches of rain, breaking the previous record of 2.3 inches set in 1973. More than 3 inches of additional rain could drench parts of southeast Florida through Tuesday.

Tuesday is expected to be a transition from the tropical disturbance delivering excess amounts of rain to a more typical summer-like pattern by Wednesday. Conditions will improve in South and Central Florida over the afternoon as the disturbance continues north-northeast. Northeast Florida drying out during the evening and overnight. The wet pattern will continue to be in place with daily chances for showers and thunderstorms.

Scattered to widespread showers and thunderstorms for the next several days will produce estimated rainfall accumulations of less than 3 inches. Localized flooding may occur for areas which receive isolated higher totals.
---
Monday morning update: The Flood Watch has expanded to include much of East-Central Florida, from Seminole and Orange counties south to Okeechobee and Martin counties. A few strong thunderstorms are possible along the east coast of Florida through Memorial Day where a marginal risk has been issued by the Storm Prediction Center (threat level 1 of 5). 
Rainfall rates of 2 to 3 inches per hour may be possible with some storms in east central Florida through Monday with widespread rain amounts of 4 to 6 inches possible through Tuesday morning. Areas that experience heavy rainfall could see localized flooding, with the main impacts being water on roadways, flooding of low-lying and poor drainage areas, and the rising water levels in small streams and canals.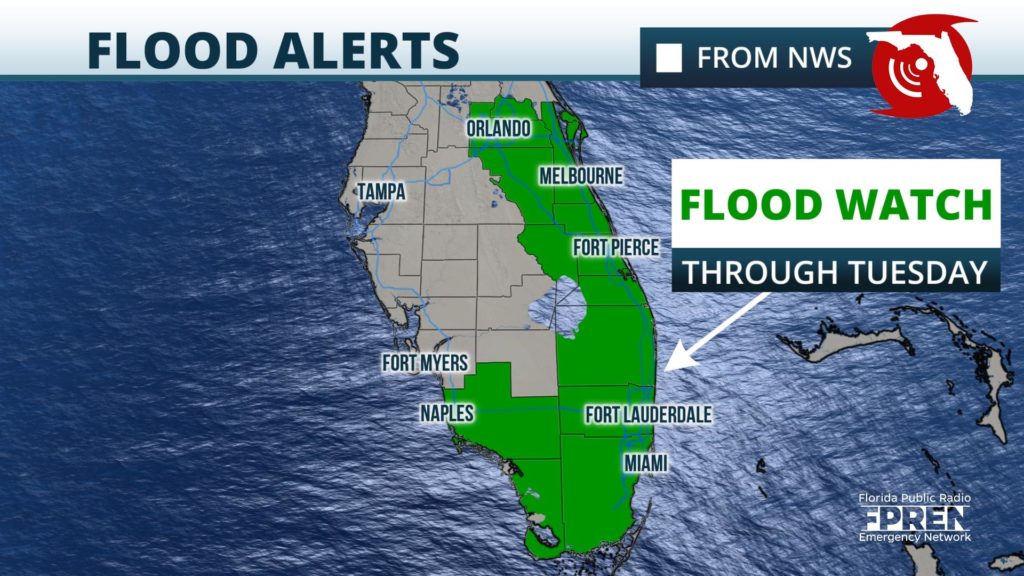 Multiple rounds of heavy rain and a few strong thunderstorms will continue to be produced in South Florida with an additional 3 to 5 inches of rain possible for the east coast metro areas in South Florida. Isolated higher amounts possible through Monday night.
This deep tropical moisture will continue to move north and northeast through Monday and Tuesday into Northeast Florida before gradually moving away from the Sunshine State by Wednesday night.
---
Multiple rounds of showers and thunderstorms are expected across the Florida peninsula over the next three days, and in some cases Memorial Day could be a complete washout. However, only spotty showers are expected farther north and west across the Florida Panhandle, where the rainy season isn't underway just yet.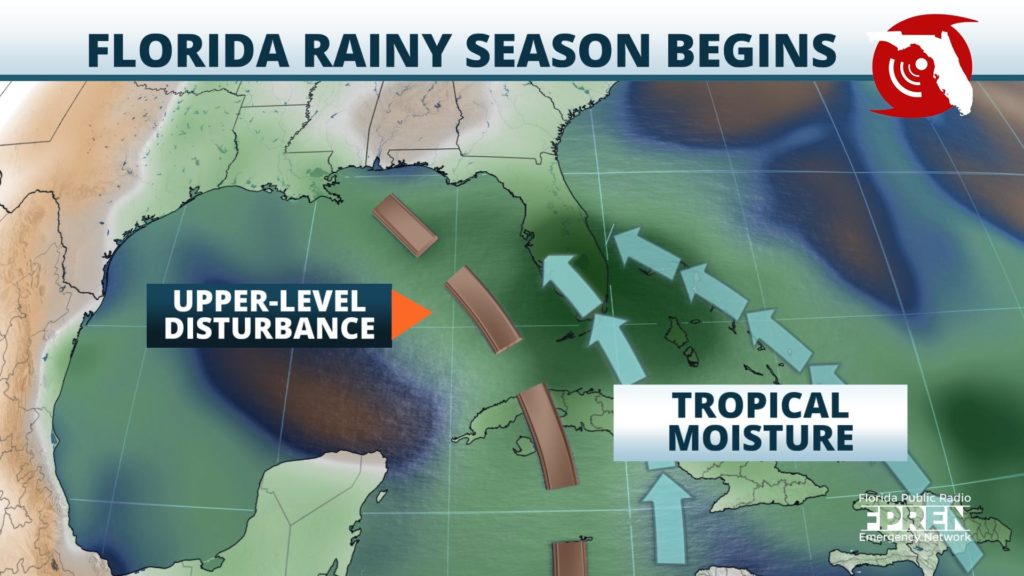 The discrepancy in expected rainfall between the peninsula and the panhandle over the next few days will be accentuated by an upper-level disturbance that is expected to move across the peninsula Monday.
A Flood Watch has been issued for portions of South Florida, beginning Sunday at 2PM EDT and lasting through Memorial Day. The watch includes the cities of Miami, Fort Lauderdale and Naples.
Several rounds of showers and thunderstorms are expected over the Memorial Day weekend in South Florida which could produce localized flooding. The highest chances for a few strong thunderstorms exists across areas near and south of I-75 from Naples to Miami, where a marginal risk (threat level 1 out of 5) for wind damage has been identied by the Storm Prediction Center for both Sunday and Monday.

Tropical moisture was observed to be already moving into South Florida Sunday morning, ahead of a disturbance that was developing over the southeastern Gulf of Mexico and Yucatán Channel

This moisture is expected to continue streaming northward through Monday, aiding in the development of multiple rounds of showers and thunderstorms with heavy rain.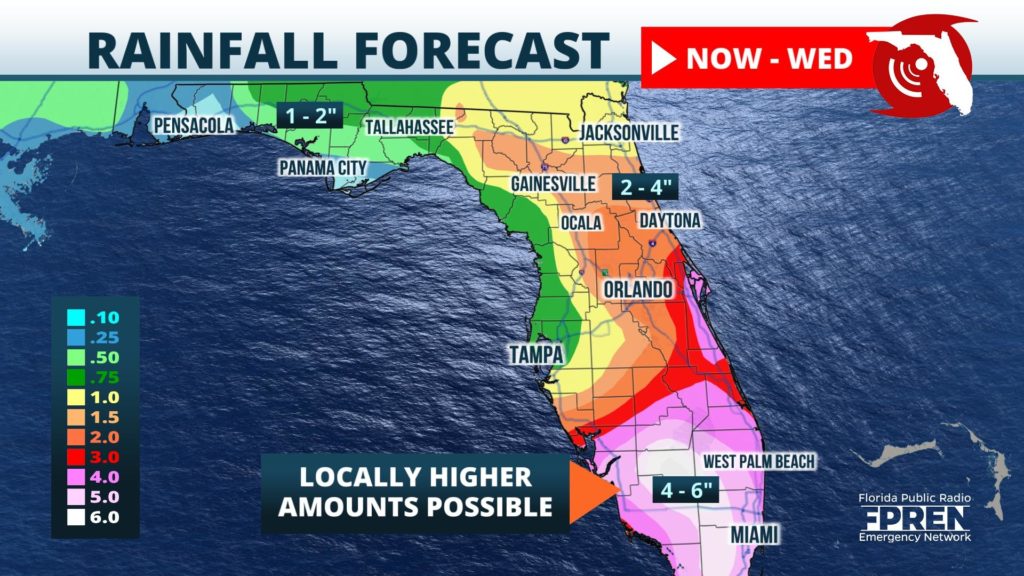 An average of 2 to 4 inches of rain is expected across most of South Florida through Monday, with some isolated spots possibly receiving up to 6 inches. Flooding is most likely near poor drainage areas, as well as in low-lying locations near small creeks, streams and canals.

Lesser amounts of rain are expected across central and northern portions of the state, where the downpours will be a bit more widely scattered. However, rainfall totals will likely exceed an inch in most spots by Wednesday. Locally higher amounts will be possible where a few stronger storms develop along the sea breezes near and east of the I-75 corridor from Tampa to Lake City.

Showers and a few thunderstorms are likely to continue Tuesday across the peninsula, although they may not be as widespread or hit as often. Slightly drier conditions are in the forecast across the state starting Wednesday, but the summertime pattern of afternoon sea breeze showers will likely continue in the days following.

Florida's rainy season typically begins across the southern half of the state on or around May 20, then across areas farther north by June 1. The criteria used to define the roughly four-month period is a bit ambiguous, but it is generally marked by a persistence of high humidity, warm sea surface temperatures, and the absence of any cold fronts. This type of pattern allows sea breeze fronts to develop near the coast and push inland each afternoon, triggering the brief downpours Florida is known for by locals and tourists.