Multiple rounds of showers and thunderstorms are likely across Florida over the next three days, thanks to a slow-moving front that could produce heavy rain in some areas.
The rain could be welcome news to farmers in the Florida Panhandle Monday night and Tuesday, who are dealing with a moderate or severe drought. However, the heaviest rain is likely to fall a little farther south Tuesday night and Wednesday, across portions of North-Central Florida where up to three inches is possible.
Good News for Some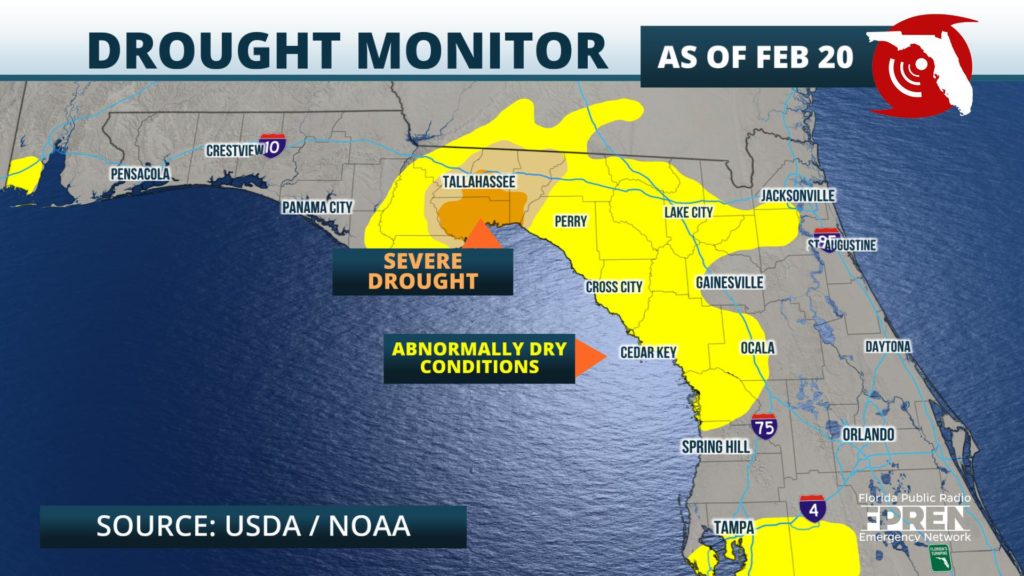 The winter months are typically much drier in Florida than in the summer, but this season has been unusually so in Florida's Big Bend region. Last week, the USGS has classified a large area from the Apalachicola River to the Nature Coast as abnormally dry. Embedded within that area were localized spots of moderate drought, with Wakulla County's situation even being classified as "severe". According to NOAA's Regional Climate Center, this area will require at least four inches of rain to completely erase the deficit. However, only some of that is expected from this week's front.
Heavy Rain is Possible
The storm system approaching Florida this week first moved over the Desert Southwest Sunday, where it dumped record-setting rainfall in Phoenix, Arizona. The area of low pressure was expected to intensify in the Central Plains Monday, before moving into the Ohio Valley Tuesday. A cold front is then forecast to sweep across the Deep South Tuesday night and Wednesday, but slow down considerably as it moves through.
Winds from the southwest at nearly all layers of the atmosphere will aid in the transport of deep amounts of moisture into Florida ahead of the front. This could lead to several rounds of heavy rain in some areas, especially where the front might even stall temporarily across North-Central Florida. A piece of energy is then likely to cause the front to accelerate again as it moves across Central Florida Wednesday, before exiting the state through South Florida Wednesday night.
The When and Where
Showers were beginning to push ashore along the Emerald Coast Monday afternoon, and a few thunderstorms are expected to develop farther east toward Panama City and Tallahassee Monday evening. Here is a look at a Future Radar animation through Tuesday morning.
Showers are likely to spread across Florida's Big Bend and Nature Coast regions Tuesday, then become heavier and steadier as the front slows down Tuesday afternoon. The heaviest rain with this system is then likely to fall near and roughly 30 miles either side of a line from Cedar Key to Ocala to St. Augustine Tuesday night. In this corridor, widespread rainfall amounts of two inches are expected, with locally higher totals up to three inches possible. A few strong thunderstorms are also possible, although atmospheric conditions are not expected to be conducive for severe weather at the time.
The cold front is forecast to weaken some as it accelerates toward Central Florida Wednesday, when periods of rain and a few rumbles of thunder will be possible in cities such as Tampa, Orlando and Melbourne. The showers will continue marching south toward the South Florida cities of Fort Myers, Naples, West Palm and Miami Wednesday night.
Drier and much colder weather is forecast to sweep across the Sunshine State Thursday and Friday. Below normal temperatures are then expected to continue through the weekend.
A soaking rain is likely across the Sunshine State Sunday, and it could be heavy enough to cause river or street flooding in some areas.
Thunderstorms capable of producing minor wind damage or a brief tornado are also possible in portions of South Florida Sunday afternoon, although considerable uncertainty remains on whether this risk will materialize.
An area of low pressure is forecast to form in the central Gulf of Mexico Saturday, then gradually strengthen as it moves across the state Sunday. The first area to receive widespread rain is likely to be the Florida Panhandle Saturday night. This will then spread east along I-10 toward Jacksonville and portions of North Florida Sunday morning.
Clusters of heavy rain with embedded thunderstorms are also expected to develop farther south by Sunday afternoon, moving ashore from the Gulf of Mexico near and south of the I-4 corridor. The rain will end in most areas by Monday morning, although scattered showers may persist a bit longer in northeast Florida.
When the u003cbu003eheaviestu003c/bu003e may fall
The following windows of time are when the heaviest and most persistent rain is expected.
Pensacola: Sat 6 pm - Sun 3 pm
Panama City: Sat 10 pm - Sun 6 pm
Tallahassee: Sun 12 am - Sun 9 pm
Jacksonville: Sun 6 am - Mon 6 am
Gainesville/Ocala: Sun 4 am - Mon 3 am
Tampa/St Pete: Sun 8 am - Sun 9 pm
Orlando/Melbourne: Sun 10 am - Mon 12 am
Fort Myers: Sun 12 pm - Sun 9 pm
Fort Pierce: Sun 2 pm - Mon 12 am
Miami/West Palm: Sun 4 pm - Mon 3 am
How much may fall
The greatest threat from the storm system is excessive rain. Computer model projections as of Friday afternoon are showing widespread 1 to 3 inch rainfall amounts over the state, with a few locations perhaps receiving upwards of 4 inches.
There are some indications from the American and European global models that two pockets of heavy rain — one near I-10 in the Panhandle and another over central Florida — may develop. However, forecasting the precise location of flooding downpours more than a few hours in advance is typically not possible.
Coastal hazards possible
Gusty winds from the storm have prompted the National Weather Service to issue Small Craft Advisories or Gale Watches for both the Atlantic and Gulf waters. If the track of the low pressure is over the Panhandle, there may be minor coastal flooding for portions of Florida's Big Bend as well. Rough surf and rip currents may also create a hazard for those looking to enter the water over the holiday weekend.
Low severe potential
The air mass is expected to become warm, humid, and unstable enough to produce strong thunderstorms, primarily south of Interstate 4, Sunday into Sunday evening. The Storm Prediction Center has issued a "marginal risk", a level 1 out of a possible 5, for the possibility that a few of the storms may be strong enough to produce damaging gusts and a tornado or two. A widespread outbreak of damaging winds and tornadoes is not presently anticipated, but residents are advised to occasionally monitor the forecast over the weekend for changes.

Scattered showers and a few downpours are possible into Monday, with a clearing trend and return to more typical Florida-like December weather for Christmas Eve and Christmas Day.

An interesting weather system may develop near Florida this weekend, and it has the potential to wash away your outdoor plans. There is also a chance it could produce more than just heavy rain.
It must be stated before anything else that confidence is extremely low on the specifics of what may (or may not) occur this weekend in Florida.
Nonetheless, reliable forecast data is suggesting a significant rainfall event will occur somewhere across the state Saturday or Sunday. The rain could also be accompanied by gusty winds, choppy seas, and even severe thunderstorms if a stronger storm system were to develop.
The reason for the unsettled weather is an area of low pressure that is expected to form over the Gulf of Mexico Friday or Saturday. This will not be a traditional fast-moving cold front that often sweeps through this time of year, producing only one episode of wet weather. Rather, it is likely to be a slow-moving storm that has the potential to produce long-lasting periods of rain or thunderstorms in some areas.
Why confidence is so low at this time
Meteorologist Ray Hawthorne shared an animation of all the possible tracks the area of low pressure could take this weekend from one particular ensemble of model runs.
Several inches of rain are forecast to fall in some areas Saturday or Sunday, which could lead to localized flooding. Thunderstorms capable of producing wind damage or even a brief tornado also can't be ruled out. However, it is too early to credibly forecast where any of this may occur. Furthermore, depending on the strength and track of the low, high seas and gale force winds are even possible along Florida's Gulf and Atlantic coasts prior to or immediately following the passage of the storm.
This story only serves as an early notice to anyone planning to travel or vacation in the state this weekend, and we encourage all Floridians and visitors to stay informed of future forecasts when considering your holiday plans. Our team of meteorologists at the Florida Public Radio Emergency Network will continue to monitor forecast data over the next few days and post frequent updates on this site and in our mobile app Florida Storms.

Widespread rain and a few strong thunderstorms are likely on Friday over much of the Big Bend, North, and Central Florida. The strongest storms may produce isolated damaging wind gusts and a low chance for a brief tornado.
The unsettled weather is expected to develop ahead of a gradually intensifying area of low pressure that will move quickly from the northeastern Gulf of Mexico to the Mid-Atlantic states. The Storm Prediction Center has placed portions of the Florida Panhandle and sections of North-Central Florida under a marginal risk for severe thunderstorms on Friday.
Scattered showers are expected to develop across the peninsula Thursday, then increase in coverage and intensity late Thursday night and Friday morning as they expand north to the I-10 corridor. The rain is also forecast to become heavier shortly after sunrise in the Jacksonville and Gainesville areas. Enough unstable air from the Gulf of Mexico may produce a few thunderstorms with gusty winds, as well.
With daytime heating Friday, the storms could intensify near the Tampa/St. Pete metro areas around midday. Winds from the southeast near ground level and from a different direction — from the south a few thousand feet of the above the ground — may create enough rotation for a brief tornado or two.
High resolution model simulations forecast the rain and thunderstorms to move across central Florida during the mid and late afternoon hours. If the air mass becomes unstable enough, a few pockets of damaging wind are possible near Interstate 4 before the heaviest rain departs shortly after sunset.
Drought conditions have been improving in recent weeks over the north Florida, but a moderate drought remains over much of the Big Bend and Panhandle areas. 1 to 1.5 inches of rain are forecast in these areas. Abnormally dry conditions have developed over south Florida, where less rain is forecast from this system.