A strong storm system moving in from the Gulf of Mexico is expected to send clusters of strong thunderstorms across portions of South Florida Sunday evening. Some of the storms could produce damaging wind gusts, or even a tornado.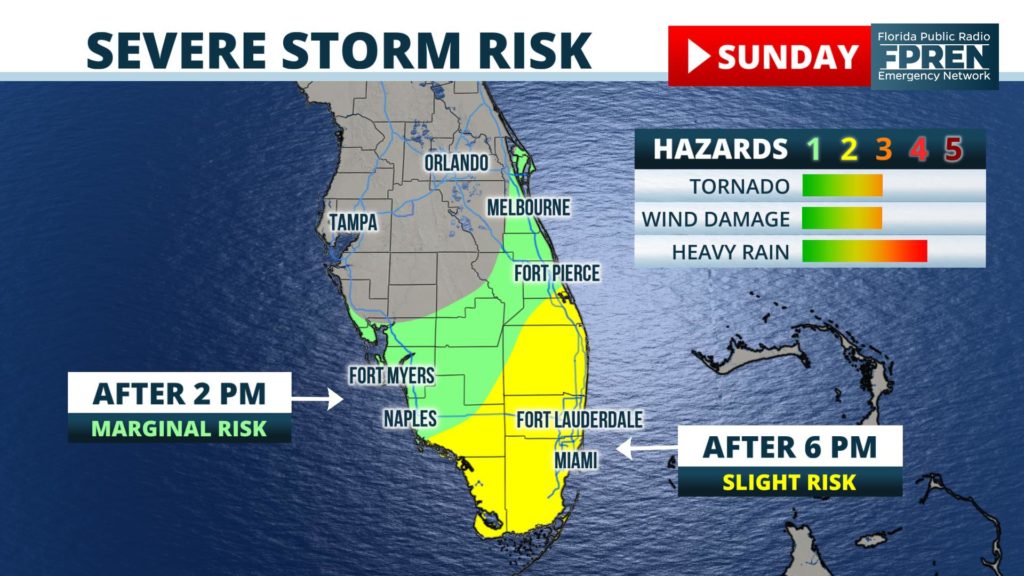 This is the same storm system forecast to produce pockets of heavy rain across the entire Sunshine State through Monday, which could lead to localized flooding.
Forecasters at the Storm Prediction Center updated their prior forecast to a "slight risk" (level 2 out of 5) for areas south of a line from Fort Myers to Fort Pierce, primarily for the time period of Sunday evening and overnight. This is when the atmosphere is expected to become more moist and unstable.
Latest forecast guidance suggests a large cluster of thunderstorms will organize near and just north of the Florida Keys Sunday afternoon. The cells are then expected to move across the Everglades in the evening hours and reach the Atlantic Coast overnight. The strongest storms will be capable of rotating and producing a tornado or damaging wind gusts up to 60 mph.
Nighttime tornadoes are extremely dangerous, especially during the winter when they are often wrapped in rain and can occur with little lightning or thunder. We encourage residents of South Florida to stay informed and ensure they have a way of being notified if a warning is issued. Our Florida Storms mobile app is a great resource, and it's available for free on your mobile phone or tablet.
The storm responsible for more than three dozen tornado reports across Louisiana, Mississippi, and Alabama on Monday is now moving through the Sunshine State. It is not as robust as it once was, but it still could produce thunderstorms capable of damaging gusts and perhaps a tornado.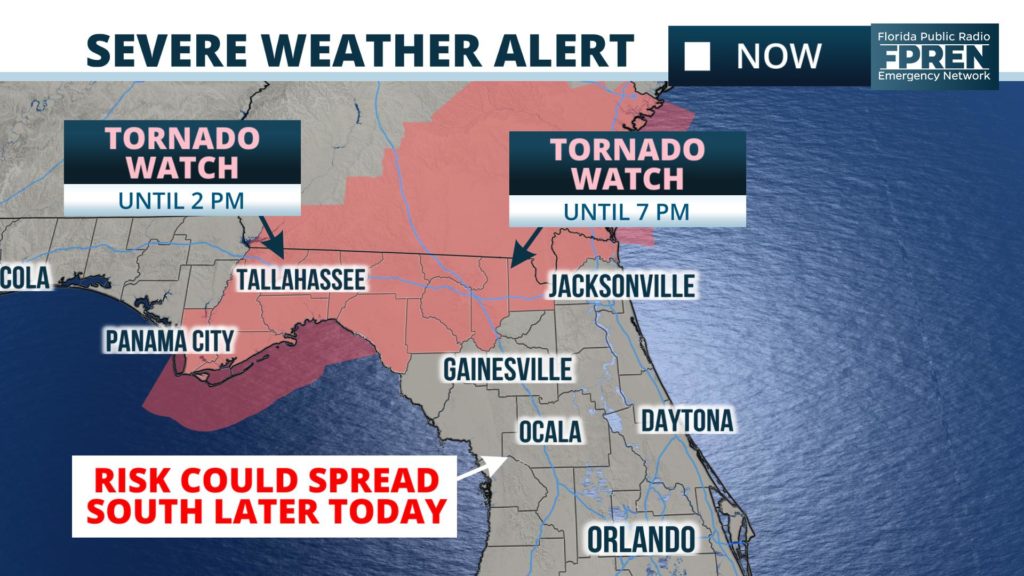 A Tornado Watch is in effect until 2 PM for portions of the Big Bend and Panhandle, including Tallahassee and Panama City. A new Tornado Watch has also been issued for areas farther east along I-10 toward Jacksonville until 7 pm.
Isolated tornadoes and damaging gusts from thunderstorms are possible in and near the watch area. The National Weather Service in Tallahassee said radar data confirmed a tornado in Jackson county, near Graceville, shortly after 7 o'clock this morning. It is not immediately clear at the time of this story how extensive the damage was from the tornado.
Thunderstorms were moving into the Tallahassee area midday, with a threat for damaging gusts and isolated tornadoes. The cold front attached to this storm is expected to sweep eastward Tuesday afternoon and evening. Scattered showers and thunderstorms could develop earlier in the afternoon, well ahead of the front, but the more widespread activity is expected to accompany the front. Here are the estimated times of arrival for the main line of thunderstorms:
Gainesville, Jacksonville: 3-6 PM
Tampa/St Pete: 5-8 PM
Orlando/Melbourne: 4-9 PM
Fort Myers: 8-11 PM
Vero Beach/Fort Pierce: 10 PM - 2 AM
As the front moves across the southern half of the peninsula, upper-level winds are forecast to weaken somewhat, reducing the number of wind damage reports. Residents should still be aware that gusty winds are possible with the strongest thunderstorms as they move through. The high moisture in place will also result in downpours with the showers and thunderstorms.
Scattered thunderstorms are possible before the times listed above. The main line of thunderstorms is forecast to weaken considerably as it reaches Naples, West Palm Beach, and Miami, but scattered thunderstorms are possible in those areas between 3 AM and 10 AM on Wednesday.
Much colder air is expected to flow in behind the front on Wednesday and Thursday. There is a chance of a light freeze in North Florida and the Florida Panhandle, especially closer to the Interstate 10 corridor early on Thursday morning.
The National Weather Service has issued a Tornado Watch until 2 PM for much of the Florida Big Bend and portions of the Panhandle. The Tornado Watch includes Tallahassee, Panama City, Marianna, and Apalachicola.
The larger storm system produced more than 3 dozen tornado reports over Alabama, Mississippi, and Louisiana on Monday. Its associated cold front is moving into an environment that is not quite as favorable for tornadoes today, but there is enough wind shear and unstable air for a few tornadoes in and near the tornado watch area this morning into early afternoon. Damaging wind gusts may accompany the thunderstorms, as well.
Storms were approaching the Panama City and Marianna areas as of mid-morning, and will reach the Apalachicola and Tallahassee areas around midday. At least one tornado warning has been issued in the Florida Panhandle northwest of Marianna, where radar data strongly suggested there was a touchdown in Jackson County.
The storms are expected to leave the Big Bend area during the mid and late afternoon. Much colder weather is forecast behind the front tonight and Wednesday, and a light freeze is possible early Thursday morning.
Forecasters at the National Weather Service Storm Prediction Center have also placed much of north and central Florida under a "marginal" (level 1 of 5) risk for severe weather later Tuesday afternoon and evening. Current forecast data suggests minor wind damage or a brief tornado may occur in these areas with the strongest cells.
A strong storm system is expected to bring tornadoes, hail, and damaging winds to portions of Louisiana, Mississippi, and Alabama Monday afternoon. It could then trigger a few strong storms capable of producing damaging wind gusts in the Florida Panhandle late Monday night or early Tuesday morning.
The factors that are forecast to come together to produce the tornado risk over portions of the Deep South will not be as well aligned for the thunderstorms that move into the Florida Panhandle after early Tuesday morning. However, unstable air streaming northward from the Gulf of Mexico and strong winds aloft have prompted the Storm Prediction Center to place areas west of the Apalachicola River under a "slight" (level 2 of 5) risk for severe weather. In their early morning outlook, forecasters say there is the potential for scattered damaging winds and an isolated tornado, despite the slightly less favorable conditions than farther west.
High-resolution computer models show the thunderstorms reaching the Pensacola region between 10 pm and 6 am. They will then spread east into areas from Panama City to Marianna between 2 am and 8 am, followed by the Tallahassee area around or shortly after sunrise Tuesday. Occasional storms may not clear the capital city region until mid-afternoon. Gusty winds, downpours, and lightning are possible with these storms, but the risk of damaging thunderstorms is considerably lower over the central and eastern regions of Florida's Big Bend.
Much colder air will flow in behind the cold front Tuesday night and Wednesday. A light freeze is even possible over much of the Florida Panhandle, Big Bend, and North Florida by Thursday morning. The greatest chance of freezing temperatures is away from the immediate Gulf coast and closer to Interstate 10, areas that have already experienced a freeze this season.
The risk of wind damage and possibly a tornado is increasing across portions of Florida Friday night. Multiple rounds of showers and thunderstorms are possible across the northern half of the state during the day, but the strongest activity is now expected to arrive after sunset.
A complex upper-level storm system is forecast to swing through the Southeast Friday, and clusters of strong thunderstorms are expected to develop ahead of it across several different areas of Florida in the afternoon, evening and overnight hours. Forecasters at the Storm Prediction Center, which is a division of the National Weather Service, have placed much of northern Florida under a "slight" (level 2 out of 5) risk for severe weather through 7 am Saturday. This was a categorical upgrade to the forecast issued for the same period of time Thursday.
The primary hazards with the strongest cells will be damaging wind gusts or a brief tornado. The highest chances of this occurring are across the eastern half of the panhandle this evening, then stretching into the northern half of the peninsula overnight. However, a few strong thunderstorms may also develop across portions of North Florida in the afternoon hours Friday.
Locally heavy rain will also be possible at times in the same areas affected by the stronger thunderstorm potential. Rainfall amounts through Saturday are likely to exceed an inch across a large area of the state north of I-4, with locally higher amounts of up to two inches possible closer to the Gulf Coast. Lesser amounts of rain are expected, primarily on Saturday morning, for areas of central and south Florida.
The storm system responsible for the unsettled late-week weather is expected to clear the state Saturday afternoon, leaving behind a drier and more stable air mass for the second half of the weekend. The more favorable weather for outdoor activities should continue into the early part of next week.
Widespread rain and a few strong thunderstorms are likely on Friday over much of the Big Bend, North, and Central Florida. The strongest storms may produce isolated damaging wind gusts and a low chance for a brief tornado.
The unsettled weather is expected to develop ahead of a gradually intensifying area of low pressure that will move quickly from the northeastern Gulf of Mexico to the Mid-Atlantic states. The Storm Prediction Center has placed portions of the Florida Panhandle and sections of North-Central Florida under a marginal risk for severe thunderstorms on Friday.
Scattered showers are expected to develop across the peninsula Thursday, then increase in coverage and intensity late Thursday night and Friday morning as they expand north to the I-10 corridor. The rain is also forecast to become heavier shortly after sunrise in the Jacksonville and Gainesville areas. Enough unstable air from the Gulf of Mexico may produce a few thunderstorms with gusty winds, as well.
With daytime heating Friday, the storms could intensify near the Tampa/St. Pete metro areas around midday. Winds from the southeast near ground level and from a different direction — from the south a few thousand feet of the above the ground — may create enough rotation for a brief tornado or two.
High resolution model simulations forecast the rain and thunderstorms to move across central Florida during the mid and late afternoon hours. If the air mass becomes unstable enough, a few pockets of damaging wind are possible near Interstate 4 before the heaviest rain departs shortly after sunset.
Drought conditions have been improving in recent weeks over the north Florida, but a moderate drought remains over much of the Big Bend and Panhandle areas. 1 to 1.5 inches of rain are forecast in these areas. Abnormally dry conditions have developed over south Florida, where less rain is forecast from this system.
The first formidable cold front of the fall season is likely to bring much-needed rain to portions of the Florida Panhandle Tuesday. Some of it could come from strong thunderstorms that might turn severe.
Here's a look at where severe storms may develop Tuesday.
And this is the potential rain that could fall through Wednesday morning.