The National Oceanic and Atmospheric Administration (NOAA) anticipates an above-normal hurricane season this year for the Atlantic Ocean, Caribbean Sea and Gulf of Mexico.
Acting NOAA Administrator Neil Jacobs announced the forecast Wednesday.
The NOAA outlook predicts a 60% chance of an above-normal season, a 30% chance of a near-normal season, and only a 10% chance of a below-normal season.
NOAA is calling for 13 to 19 named storms (wind speeds of 39 to 73 mph); 6 to 10 hurricanes (wind speeds of 74 to 110 mph); and 3 to 6 major hurricanes of Category 3 strength and higher (wind speeds over 111 mph).

"It is not possible to predict at this time how many of these will impact land," Jacob says.
Dr. Gary Bell, lead hurricane season forecasted with NOAA's Climate Prediction Center, attributes the forecast to warmer than average sea surface temperatures in the North Atlantic basin, weaker trade winds, and an increase in the west African Monsoon season.
Additionally, El Niño Southern Oscillation may also play a role in the activity being forecast for the upcoming season. Currently, ENSO neutral conditions are being recorded with the possibility of La Niña conditions forming by fall -- the peak of the hurricane season -- which could increase the frequency and possible intensity of hurricanes between August and October.
"If 2020 becomes an above-normal season it will make a record of five consecutive above-normal Atlantic hurricane seasons and this would surpass the previous record of four set during 1998 to 2001," says Gerry.
As part of the method for formulating this season's predictions, forecasters from other agencies have drawn comparisons to previous years with comparable weather conditions. Forecasters have suggested that the 2020 season could be similar to the hyperactive 2005 hurricane season.

"I never want to compare one season to another. What is important is that we are predicting an above-normal season. Don't worry about what another season did, be prepared for this season," says Bell.

Due to the ongoing COVID-19 pandemic residents are concerned about the fast approaching hurricane season and how shelter will handle the situation during an approaching hurricane.

"I want to reinsure the nation that FEMA continues to take deliberate and proactive steps, working close with our state, local, tribal, territories, federal, non-profit, and private sector partners to safeguard our ability to respond and recover from future disasters that may arise during this pandemic," says Carlos Castillo, FEMA Acting Deputy Administrator for Resilience.

NOAA's hurricane season outlook announcement coincides with other forecast agencies, such as AccuWeather and Colorado State University, both of which have called for an active 2020 hurricane season.

The 2020 season is already off to an early start with Tropical Storm Arthur forming off the east coast of Florida earlier this week and brushing the Outer Banks of North Carolina. 2020 is the sixth consecutive year that a tropical system formed before the official start of the hurricane season.
Two months remain in the 2019 hurricane season and climatology suggests forecasters should now closely watch the Caribbean.

There is a 35 percent increase in the proportion of hurricane activity that develops in the Caribbean Sea from September to October, according to NOAA's database of hurricane tracks since 1842. Historical records also reveal that more than half of October and November hurricanes (110 of 201) have moved through the Caribbean. And when a storm enters this body of water, geography alone makes them almost certain to hit land.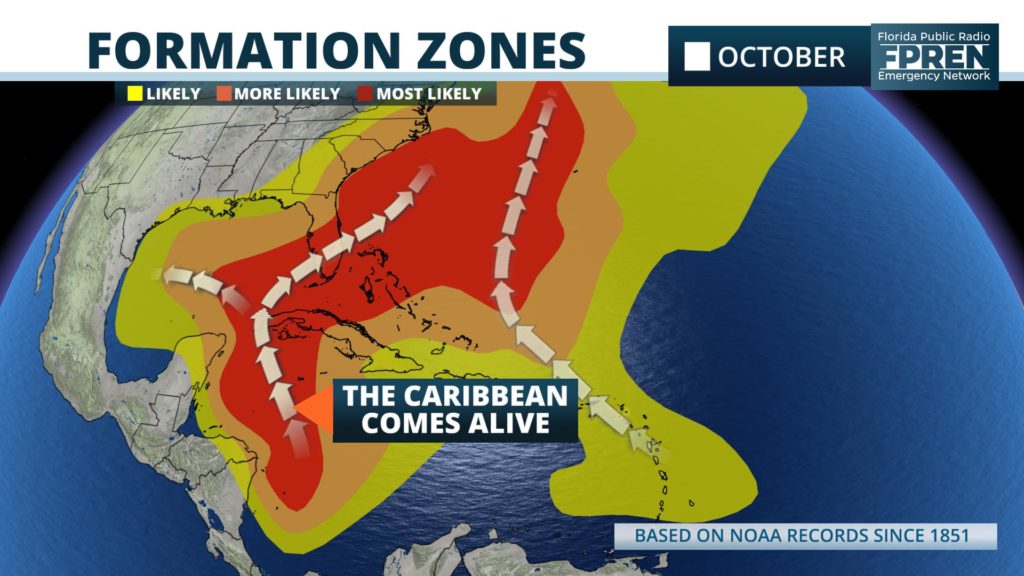 Florida is one of several land areas particularly vulnerable to a landfalling hurricane in October. No one has made this clearer than Doctor Phil Klotzbach on Twitter.
As of Tuesday evening, there were no imminent threats to Florida or the United States from the tropics. The National Hurricane Center has highlighted two areas of interest in their recent 5-day tropical weather outlooks, but both are noted as having only a "low chance" of developing.
<!- View not found ->
Long range data suggests there will be an uptick in thunderstorm activity in the southern Gulf of Mexico and western Caribbean over the next ten days, but reliable forecast modeling has not been consistent on indicating where, if any, a tropical cyclone might form. We would like to remind Floridians that nearly the same number of landfalling hurricanes have occurred in October (37) as September (39).