UPDATE 11AM EDT: A Tornado Watch has been extended into western portions of the Big Bend including the city of Tallahassee until 1:00 PM CDT.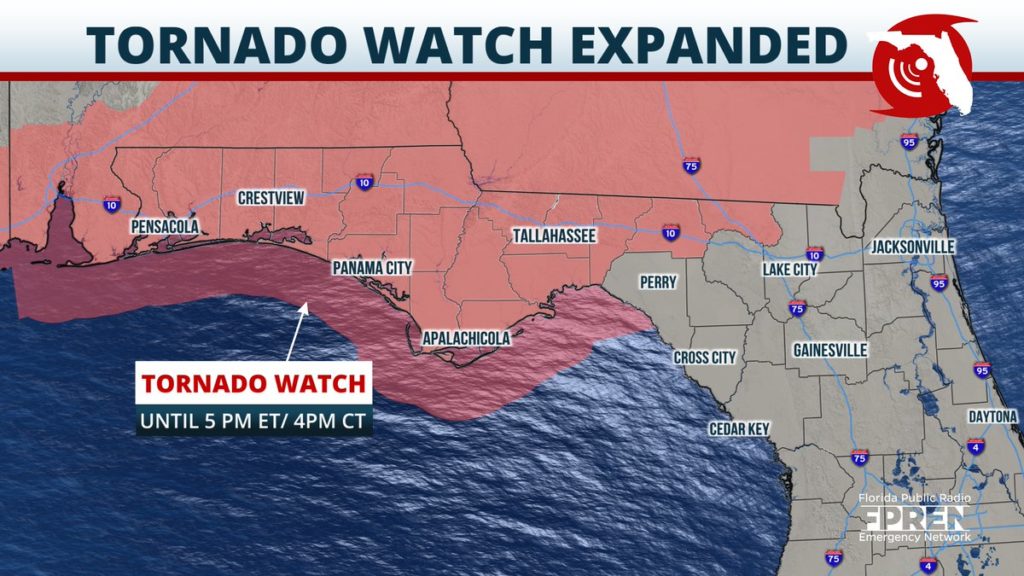 As of late Thursday morning, heavy showers and strong thunderstorms were entering extreme northwestern parts of the Florida Panhandle ahead of a strong cold front.

This line of hazardous weather will continue eastward through Thursday late morning and early afternoon. Locations around Panama City will see showers and storms move through by late Thursday morning and early afternoon.

Thursday evening thunderstorms will approach the Tallahassee area close to midnight. This line of storms will likely continue to maintain its strength into the overnight hours.

The main hazards with these thunderstorms will be damaging winds in excess of 70 mph, the potential for large hail, and the possibility of embedded strong tornadoes.

---
A Tornado Watch is in effect for much of the Florida Panhandle until 1 PM. The watch includes, but is not limited to, the cities of Marianna, Panama City, Crestview, Chipley, Destin, Fort Walton, and Pensacola.
As of early Thursday morning, a line of thunderstorms extended from central and south Alabama into southern Mississippi and a portion of southeast Louisiana early Thursday morning. The storms are moving east at around 45 mph. If they continue at this pace, they will arrive in Escambia and Santa Rosa counties, north of Interstate 10, between 7 and 8 AM. These storms should continue spreading east and reach Pensacola, Fort Walton, Destin, and Crestview between 8 and 11 AM. The Panama City and Marianna areas are likely to see the storms arrive between 10 AM and 2 PM.
Strong wind shear is likely to support damaging wind gusts and tornadoes along segments of the line. NOAA's Storm Prediction Center said there is a threat for a couple of strong tornadoes as the line of storms interacts with a warm front that is presently near the coast.
A second round of thunderstorms is possible this evening as another disturbance high in the atmosphere approaches the Panhandle from the west. However, it is unclear how strong these storms may be and will depend on how much sunshine can warm the atmosphere after the first round of storms this morning.
A Tornado Watch has been issued for all of north and northeast Florida until midnight. The watch includes the cities of Jacksonville, Gainesville, Ocala, and the Nature Coast.
As of 7 pm ET, radar data indicated a squall line of thunderstorms capable of producing damaging straight-line winds or a tornado was moving through Florida's Big Bend. Several accounts of wind damage have been reported from this line in and around the Tallahassee area and points farther west.
The squall line is expected to maintain its strength, or even intensify some as it moves farther east, thanks to strong winds aloft and an unstable mass developing ahead of it. The Storm Prediction Center says there is a enhanced risk of damaging winds up to 70 mph and a few tornadoes with the line.
The most likely arrival times of the squall line in the watch area are listed below. Keep in mind that the greatest wind damage potential is usually a few miles ahead of the reflectivity you may see on radar.
Lake City & High Springs 8 to 9 pm
Gainesville & Cedar Key 8:30 to 9:30 pm
Jacksonville 9 to 10 pm
Ocala & Palatka 10 to 11 pm
St. Augustine 11 to 12 pm
In addition to the wind damage potential, rainfall totals between 1 and 2 inches may cause brief periods of localized flooding where some of the strongest cells track. The heaviest rain is expected to exit the Florida Panhandle by midnight, with clearing skies and cooler conditions expected on Friday.

A Tornado Watch has been issued by the National Weather Service for Pensacola and surrounding areas until 4 pm.
Thunderstorms capable of producing damaging wind gusts up to 60 mph and a brief tornado are possible in the advised area, especially between the hours of 1 and 4 pm CST.
The powerful storm system that has prompted the Tornado Watch has already led to more than 200 reports of wind damage, and at least five tornadoes across the Southern Plains, Ozarks and Mid-South.
Latest forecast data continues to suggest the line of storms responsible for the damage might threaten portions of the Florida Panhandle Saturday afternoon and evening.
A few isolated thunderstorms could develop ahead of the main activity as early as 1 or 2 pm CST. These cells would pose the greatest risk of a brief tornado. The damaging wind risk is greatest when the squall line approaches, which is outlined with updated arrival times below.
Pensacola: 2 to 4 pm CST
Destin: 3 to 5 pm CST
Panama City: 4 to 6 pm CST
Tallahassee: 8 to 11 pm EST
The front is then expected to weaken overnight and the severe weather risk will diminish, leaving the rest of Florida largely unaffected on Sunday.
The storm responsible for more than three dozen tornado reports across Louisiana, Mississippi, and Alabama on Monday is now moving through the Sunshine State. It is not as robust as it once was, but it still could produce thunderstorms capable of damaging gusts and perhaps a tornado.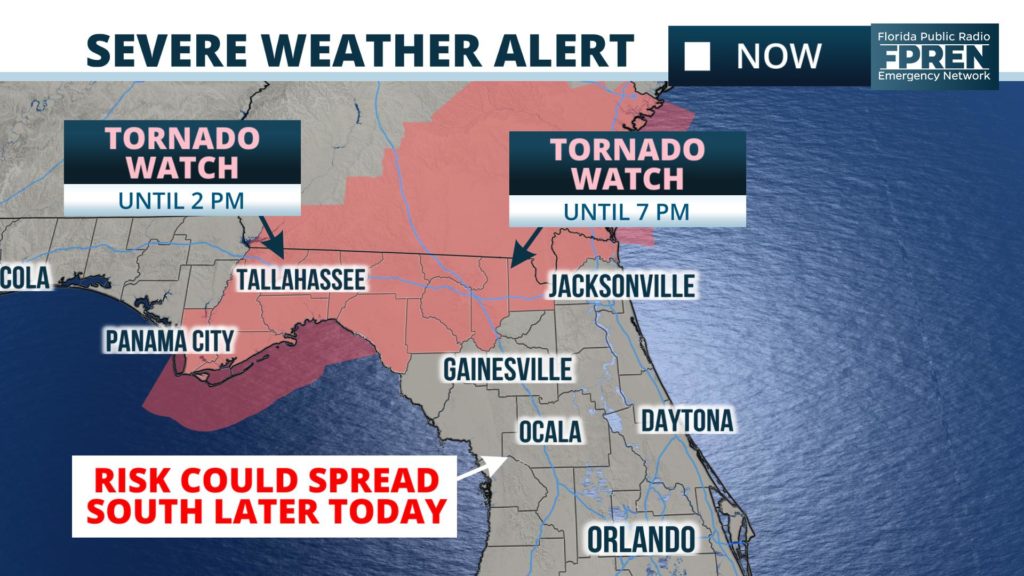 A Tornado Watch is in effect until 2 PM for portions of the Big Bend and Panhandle, including Tallahassee and Panama City. A new Tornado Watch has also been issued for areas farther east along I-10 toward Jacksonville until 7 pm.
Isolated tornadoes and damaging gusts from thunderstorms are possible in and near the watch area. The National Weather Service in Tallahassee said radar data confirmed a tornado in Jackson county, near Graceville, shortly after 7 o'clock this morning. It is not immediately clear at the time of this story how extensive the damage was from the tornado.
Thunderstorms were moving into the Tallahassee area midday, with a threat for damaging gusts and isolated tornadoes. The cold front attached to this storm is expected to sweep eastward Tuesday afternoon and evening. Scattered showers and thunderstorms could develop earlier in the afternoon, well ahead of the front, but the more widespread activity is expected to accompany the front. Here are the estimated times of arrival for the main line of thunderstorms:
Gainesville, Jacksonville: 3-6 PM
Tampa/St Pete: 5-8 PM
Orlando/Melbourne: 4-9 PM
Fort Myers: 8-11 PM
Vero Beach/Fort Pierce: 10 PM - 2 AM
As the front moves across the southern half of the peninsula, upper-level winds are forecast to weaken somewhat, reducing the number of wind damage reports. Residents should still be aware that gusty winds are possible with the strongest thunderstorms as they move through. The high moisture in place will also result in downpours with the showers and thunderstorms.
Scattered thunderstorms are possible before the times listed above. The main line of thunderstorms is forecast to weaken considerably as it reaches Naples, West Palm Beach, and Miami, but scattered thunderstorms are possible in those areas between 3 AM and 10 AM on Wednesday.
Much colder air is expected to flow in behind the front on Wednesday and Thursday. There is a chance of a light freeze in North Florida and the Florida Panhandle, especially closer to the Interstate 10 corridor early on Thursday morning.
The National Weather Service has issued a Tornado Watch until 2 PM for much of the Florida Big Bend and portions of the Panhandle. The Tornado Watch includes Tallahassee, Panama City, Marianna, and Apalachicola.
The larger storm system produced more than 3 dozen tornado reports over Alabama, Mississippi, and Louisiana on Monday. Its associated cold front is moving into an environment that is not quite as favorable for tornadoes today, but there is enough wind shear and unstable air for a few tornadoes in and near the tornado watch area this morning into early afternoon. Damaging wind gusts may accompany the thunderstorms, as well.
Storms were approaching the Panama City and Marianna areas as of mid-morning, and will reach the Apalachicola and Tallahassee areas around midday. At least one tornado warning has been issued in the Florida Panhandle northwest of Marianna, where radar data strongly suggested there was a touchdown in Jackson County.
The storms are expected to leave the Big Bend area during the mid and late afternoon. Much colder weather is forecast behind the front tonight and Wednesday, and a light freeze is possible early Thursday morning.
Forecasters at the National Weather Service Storm Prediction Center have also placed much of north and central Florida under a "marginal" (level 1 of 5) risk for severe weather later Tuesday afternoon and evening. Current forecast data suggests minor wind damage or a brief tornado may occur in these areas with the strongest cells.