Tropical Storm Dorian will face numerous challenges on its journey through the Caribbean in the coming days.
Potential effects from Dorian in Florida are highly uncertain, especially considering how many unknowns there are in the forecast at this time.
---
As of the Monday 5 pm advisory from the National Hurricane Center, Tropical Storm Dorian was located 60 miles southeast of Barbados, and moving west-northwest at 14 mph. A Tropical Storm Watch was issued for the island of Puerto Rico, and tropical storm conditions were expected in the Windward Islands overnight.
<!- View not found ->
Forecast data suggests Dorian will navigate through a complex array of factors over the next five to seven days. Most are likely to inhibit development.
First, gradual strengthening is expected by the National Hurricane Center over the next 36 hours. This is primarily attributed to warm sea surface temperatures and marginally favorable upper level winds over the eastern Caribbean. Pockets of dry air have been recently noted on the periphery of the system, and this may temporarily delay intensification, but Dorian is still forecast to briefly become a hurricane by Wednesday.

Wind shear is a term used to describe a changing of wind speed or direction with height. When the shear is high, it can keep a tropical storm from maturing or cause it to dissipate. Higher amounts of wind shear are projected by several reliable forecast models ahead of Dorian's likely path near the Greater Antilles. Timing is critical though, because these areas of stronger winds aloft are also on the move. If Tropical Storm Dorian arrives sooner or later than the projected wind shear, it may have little effect on the storm's structure or intensity.

Interactions with land are also a major detriment to a tropical cyclone's development. Multiple obstacles - islands in this case - lie in Dorian's potential path. The large and mountainous island of Hispaniola, for example, has long been a graveyard for tropical systems. A path directly over the island would likely disrupt the storm's circulation and result in weakening, or even dissipation. If Tropical Storm Dorian were to move between two islands, or just brush by one of them, the storm would have a better chance of staying in tact.

There is a chance, albeit a low one at this point, that Tropical Storm Dorian could affect Florida. However, it has to survive its journey to the north side of Hispaniola first. If that were to occur, long range forecast models then suggest the remnant circulation would enter an environment more favorable for intensification, and it could potentially approach the peninsula late this weekend.

While it is far too early to make a credible forecast centered around such outcome, we encourage all Floridians to stay informed of future forecasts on Tropical Storm Dorian in the coming days.

This story has been updated to reflect the higher chances of tropical development from the National Hurricane Center, and to provide more detail to potential weather hazards in Florida.
---
A tropical wave is becoming better organized just east of Miami, and the National Hurricane Center says a tropical depression or storm could form this weekend.
The system is not expected to be a significant threat to Florida, but periods of heavy rain and unsettled seas are possible in portion of central and south Florida in the coming days.
Forecasters at the National Hurricane Center increased the odds of development to 70 percent in their 8 am Friday tropical outlook.
Satellite and radar data Friday morning revealed the area of low pressure (referred to by meteorologists as Invest 98) was located just east of the upper Florida Keys and drifting slowly to the northwest. Showers were off to an early start this morning near Miami, thanks to an onshore flow and increase in moisture from the nearby disturbance.
System stays offshore
Invest 98's proximity to land and interactions with a nearby pocket of dry air may inhibit near-term organization and development. However, forecast data suggests the environment surrounding it will become more favorable for a tropical depression to form by Saturday or Sunday as it moves back over water east of Florida.
Model simulations from that same data are also all in agreement that the system would stay east of Florida and eventually turn more to the northeast. The tropical wave, now referred to as "Invest 98" by meteorologists, is not a direct or significant tropical threat to The Sunshine State.
Minor Hazards in Florida
Regardless of its tropical status, tropical moisture is likely to be pulled into portions of south and central Florida on Friday and Saturday. This could result in periods of heavy rain and stronger thunderstorm activity at times, especially in areas near and east of I-95 from Melbourne to Miami.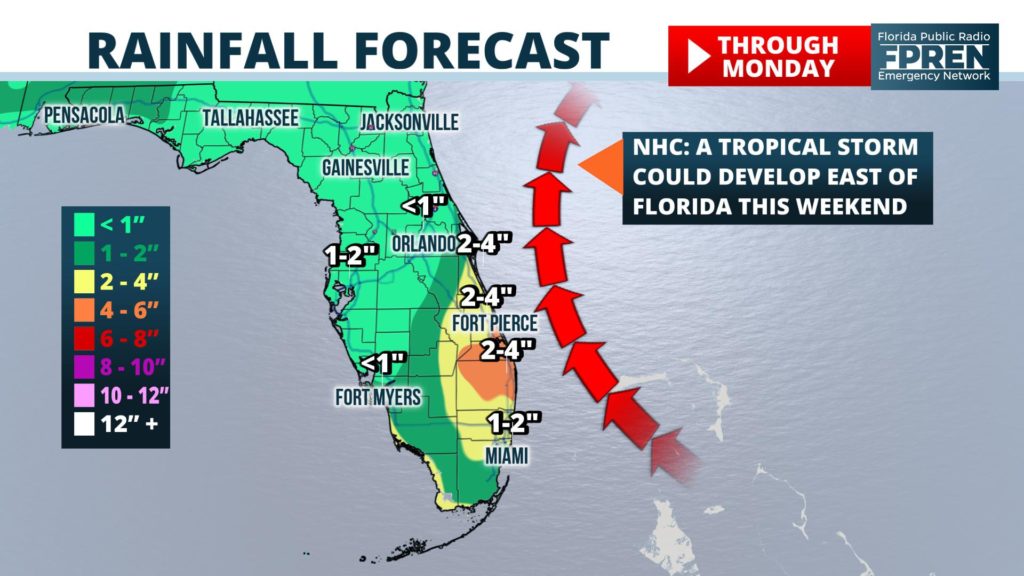 A deeper east-to-west wind pattern, a byproduct of Invest 98's circulation, could also aid in the development of strong thunderstorm activity along an Atlantic Coast sea breeze as it moves toward west-central Florida in the afternoon or early evening hours. Some of the storms along this boundary may be capable of producing damaging wind gusts as they approach cities such as Tampa, Sarasota and Fort Myers. This could happen Friday, Saturday and Sunday afternoons.
Choppy seas and a high risk of rip currents are also in the forecast at most Atlantic Coast beaches this weekend. Local authorities and forecasters at the National Weather Service are urging all water enthusiasts, especially beach-goers and inexperienced swimmers, to use caution when entering the water. Conditions are forecast to gradually return to normal as the system pulls away early next week.