A Tornado Watch has been issued by the National Weather Service for Pensacola and surrounding areas until 4 pm.
Thunderstorms capable of producing damaging wind gusts up to 60 mph and a brief tornado are possible in the advised area, especially between the hours of 1 and 4 pm CST.
The powerful storm system that has prompted the Tornado Watch has already led to more than 200 reports of wind damage, and at least five tornadoes across the Southern Plains, Ozarks and Mid-South.
Latest forecast data continues to suggest the line of storms responsible for the damage might threaten portions of the Florida Panhandle Saturday afternoon and evening.
A few isolated thunderstorms could develop ahead of the main activity as early as 1 or 2 pm CST. These cells would pose the greatest risk of a brief tornado. The damaging wind risk is greatest when the squall line approaches, which is outlined with updated arrival times below.
Pensacola: 2 to 4 pm CST
Destin: 3 to 5 pm CST
Panama City: 4 to 6 pm CST
Tallahassee: 8 to 11 pm EST
The front is then expected to weaken overnight and the severe weather risk will diminish, leaving the rest of Florida largely unaffected on Sunday.
Forecast data continues to suggest a line of destructive thunderstorms will move through portions of the Florida Panhandle Saturday. Confidence is also increasing on when the strongest cells will arrive, which we've listed below...

Pensacola: 11 am to 3 pm
Panama City: 2 to 6 pm
Tallahassee: 7 to 11 pm

There are two primary hazards posed by this storm system. First, thunderstorms that develop ahead of the squall line could rotate and produce a tornado. Second, damaging wind gusts in excess of 60 mph are possible along and directly ahead of the leading edge of the squall line.

These hazards will be most likely in the Panhandle. By the time the front arrives to the Big Bend and Northern Florida early Sunday morning, it is expected to have weakened significantly, or dissipate entirely.

A line of strong thunderstorms capable of producing destructive winds or a tornado is expected to move through the Florida Panhandle Saturday.
In addition, a brief period of torrential rain and localized flooding will also be possible from the powerful storm system as it moves through.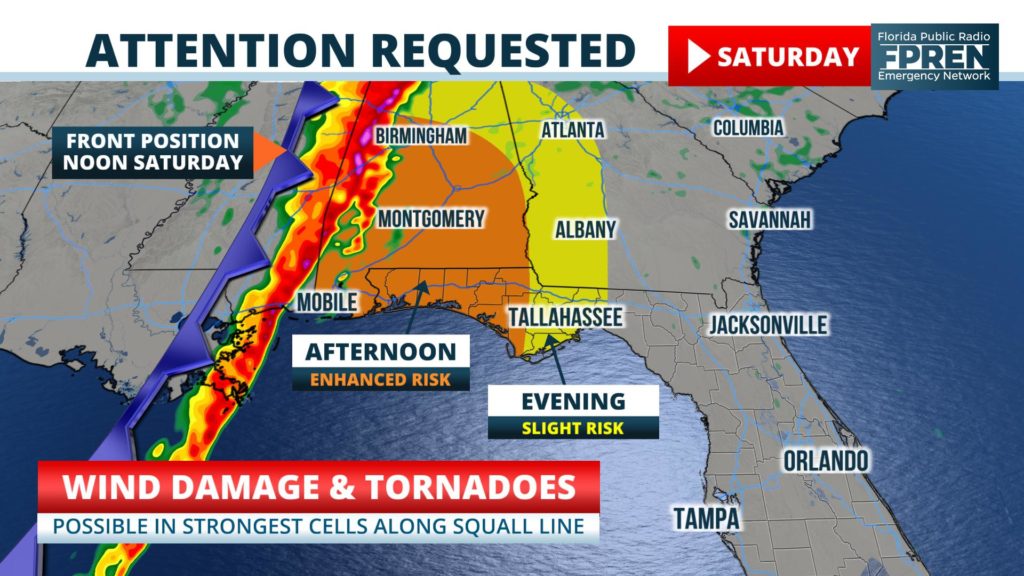 Forecasters at the Storm Prediction Center in Normal, Oklahoma have highlighted the western half of the Florida Panhandle as having an "enhanced risk" of severe storms Saturday, which is a level three out of five on their scale. In her forecast notes issued early Thursday, Meteorologist Elizabeth Leitman said the primary hazard would be wind damage, but that tornadoes could not be ruled out. She communicated uncertainty in to how "pristine" the atmosphere would be ahead of the front for this to occur, and labeled the tornado threat as more "conditional".
The weather map across the Southern Plains was rather quiet Thursday, although the ingredients were beginning to come together for a major storm. Meteorologists at the National Weather Service in Tallahassee were beginning to identify the features on water vapor imagery Thursday.
Surface and upper air observations indicated a large pocket of lower pressure and colder air was rotating through the Intermountain West toward Texas. At the same time, southerly winds were sending unseasonably warm and humid air as far north as the lower Ohio River Valley. When the pocket of colder air aloft attempts to replace the increasingly moist and unstable air mass on Friday, a large of upward motion and lowering pressure is forecast to rapidly develop.
Penascola: 11 am to 4 pm CT
Panama City: 1 pm to 7 pm CT
Tallahassee: 3 pm to 10 pm ET
Lake City: After 5 pm ET
Atmospheric dynamics along a cold front associated with this system are likely to trigger numerous clusters of thunderstorms Friday afternoon across eastern Texas and Oklahoma. The storms are then expected to quickly organize into a squall line that races east through Arkansas, Louisiana, Mississippi, and Alabama Friday night. The leading edge of these cells will pose the greatest risk of significant wind damage or tornadoes when they arrive on Saturday.
A few thunderstorms are possible in the western sections of the Florida Panhandle as early as midday. If these were to develop, they would have the potential to quickly produce a tornado as they race northward on the heels of strong southerly winds. The main squall line, which represents the more widespread and significant risk of severe weather, is then likely to approach Pensacola by early afternoon, Panama City later in the afternoon, and Tallahassee by early evening.
The cold front is expected to weaken and slow down over sections of Northeast Florida Saturday night and early Sunday. The risk of severe weather in these areas is remarkably lower than for areas farther west, although a few stronger storms near cities like Lake City or Jacksonville can't entirely be ruled out. There is no official risk areas highlighted by the Storm Prediction Center beyond Saturday at this time.

A strong storm system is expected to bring tornadoes, hail, and damaging winds to portions of Louisiana, Mississippi, and Alabama Monday afternoon. It could then trigger a few strong storms capable of producing damaging wind gusts in the Florida Panhandle late Monday night or early Tuesday morning.
The factors that are forecast to come together to produce the tornado risk over portions of the Deep South will not be as well aligned for the thunderstorms that move into the Florida Panhandle after early Tuesday morning. However, unstable air streaming northward from the Gulf of Mexico and strong winds aloft have prompted the Storm Prediction Center to place areas west of the Apalachicola River under a "slight" (level 2 of 5) risk for severe weather. In their early morning outlook, forecasters say there is the potential for scattered damaging winds and an isolated tornado, despite the slightly less favorable conditions than farther west.
High-resolution computer models show the thunderstorms reaching the Pensacola region between 10 pm and 6 am. They will then spread east into areas from Panama City to Marianna between 2 am and 8 am, followed by the Tallahassee area around or shortly after sunrise Tuesday. Occasional storms may not clear the capital city region until mid-afternoon. Gusty winds, downpours, and lightning are possible with these storms, but the risk of damaging thunderstorms is considerably lower over the central and eastern regions of Florida's Big Bend.
Much colder air will flow in behind the cold front Tuesday night and Wednesday. A light freeze is even possible over much of the Florida Panhandle, Big Bend, and North Florida by Thursday morning. The greatest chance of freezing temperatures is away from the immediate Gulf coast and closer to Interstate 10, areas that have already experienced a freeze this season.
The risk of wind damage and possibly a tornado is increasing across portions of Florida Friday night. Multiple rounds of showers and thunderstorms are possible across the northern half of the state during the day, but the strongest activity is now expected to arrive after sunset.
A complex upper-level storm system is forecast to swing through the Southeast Friday, and clusters of strong thunderstorms are expected to develop ahead of it across several different areas of Florida in the afternoon, evening and overnight hours. Forecasters at the Storm Prediction Center, which is a division of the National Weather Service, have placed much of northern Florida under a "slight" (level 2 out of 5) risk for severe weather through 7 am Saturday. This was a categorical upgrade to the forecast issued for the same period of time Thursday.
The primary hazards with the strongest cells will be damaging wind gusts or a brief tornado. The highest chances of this occurring are across the eastern half of the panhandle this evening, then stretching into the northern half of the peninsula overnight. However, a few strong thunderstorms may also develop across portions of North Florida in the afternoon hours Friday.
Locally heavy rain will also be possible at times in the same areas affected by the stronger thunderstorm potential. Rainfall amounts through Saturday are likely to exceed an inch across a large area of the state north of I-4, with locally higher amounts of up to two inches possible closer to the Gulf Coast. Lesser amounts of rain are expected, primarily on Saturday morning, for areas of central and south Florida.
The storm system responsible for the unsettled late-week weather is expected to clear the state Saturday afternoon, leaving behind a drier and more stable air mass for the second half of the weekend. The more favorable weather for outdoor activities should continue into the early part of next week.
A fast-moving front will approach the Florida Panhandle Monday night, likely triggering a cluster of potentially severe thunderstorms ahead of it. The strongest cells may produce damaging winds and perhaps an isolated tornado.
Thunderstorms were ongoing across the Mid-South along the approaching the front Monday morning. The National Weather Service received more than 230 reports of large hail and high winds from the storms Sunday night in parts of Texas, Oklahoma, Arkansas, Missouri, and nearby states. At least three tornadoes, including what appeared to be a strong tornado in the Dallas, TX, also were reported Sunday evening.
This line of storms is tied to a cold front moving through the lower Mississippi River Valley. An increasingly moist and unstable air mass ahead of it will spread over the Florida Panhandle this evening. Strong winds through a deep layer of the atmosphere will create an environment that is favorable for strong thunderstorms, especially after sunset. The Storm Prediction Center in Norman, OK has issued a "slight risk" for severe thunderstorms. Forecasters say scattered thunderstorms should pose a risk of damaging gusts along with a few tornadoes.
High-resolution computer models are forecasting the greatest chance of strong thunderstorms in the Pensacola, Fort Walton, Destin, and Crestview areas some time between 7 pm and 11 pm Central Time. It is possible a few isolated storms with damaging winds and tornadoes could develop along the immediate Gulf coast, west of Panama City, prior to 7 pm CT.
A broken line of showers and thunderstorms are expected to move east, reaching the Florida Big Bend and the Tallahassee areas around or just after midnight Tuesday morning, but it is not clear whether the storms will be as strong when they arrive. There is a "marginal risk" for a spotty wind damage report or brief tornado overnight into early Tuesday morning as far east as Jacksonville, Lake City, and Gainesville. At this time, it is most likely the storms will be weaker in these areas.
Additional thunderstorms are likely to develop along the cold front Tuesday morning in the Big Bend and move to North-Central and Northeast Florida during the afternoon. Gusty winds are possible with the storms, but the environment is not expected to be as favorable for damaging thunderstorms as it will be on Monday evening in the Panhandle. Scattered showers and storms are expected over central and south Florida Tuesday night into Wednesday as the front approaches and stalls there.
Much cooler and drier weather will follow the cold front, mainly north of I-4, on Wednesday.