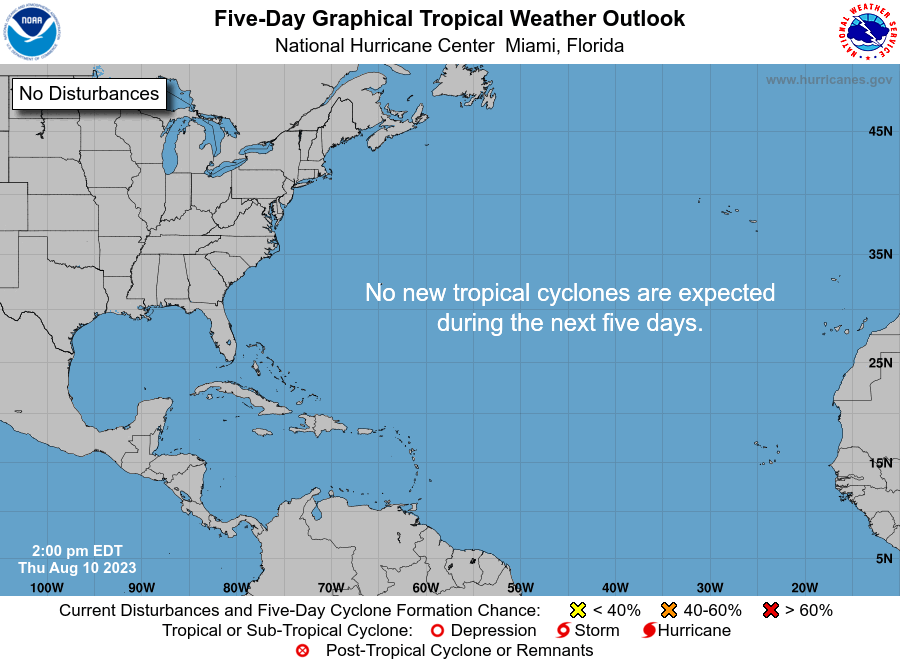 200 AM EDT Tue Sep 17 2019
For the North Atlantic...Caribbean Sea and the Gulf of Mexico:
The National Hurricane Center is issuing advisories on Hurricane
Humberto, located nearly 600 miles west of Bermuda.
1. A small low pressure system located a little more than 1000 miles
east of the Lesser Antilles continues to produce disorganized
showers and thunderstorms. This system has changed little in
organization since yesterday, but conditions are still expected to
be conducive for the formation of a tropical depression during the
next day or so while the system moves slowly northwestward to
west-northwestward.

Formation chance through 48 hours...high...70 percent.

Formation chance through 5 days...high...90 percent.
2. Shower activity associated with a broad area of low pressure over
the northwestern Gulf of Mexico has become a little more
concentrated during the past several hours. Nearby observations
indicate that although pressures are falling in the area, there are
no signs of a surface circulation at this time. Some slight
development is possible before the system moves inland along the
northwestern Gulf coast Tuesday night. Regardless of development,
this system is expected to produce locally heavy rainfall and
possible flash flooding along portions of the central and upper
Texas coastal areas later this week. For additional information,
see products issued by your local weather forecast office and the
Weather Prediction Center.

Formation chance through 48 hours...low...30 percent.

Formation chance through 5 days...low...30 percent.
Forecaster Avila